Online shopping has removed the need for some of us to leave our homes and go to the mall. However, buying online always comes with many risks because some products appear too good to be true for the price listed. These customers ordered products online and ended up big a big surprise. Read these hilarious online shopping stories and experience them for yourself.
She received a poster with her face instead of wrapping paper
As a joke, this girl bought wrapping paper with her face on it but got a giant banner with four photos of her face. However, she seems unconcerned about the incorrect product. This order most likely made the printing company's employees laugh out loud.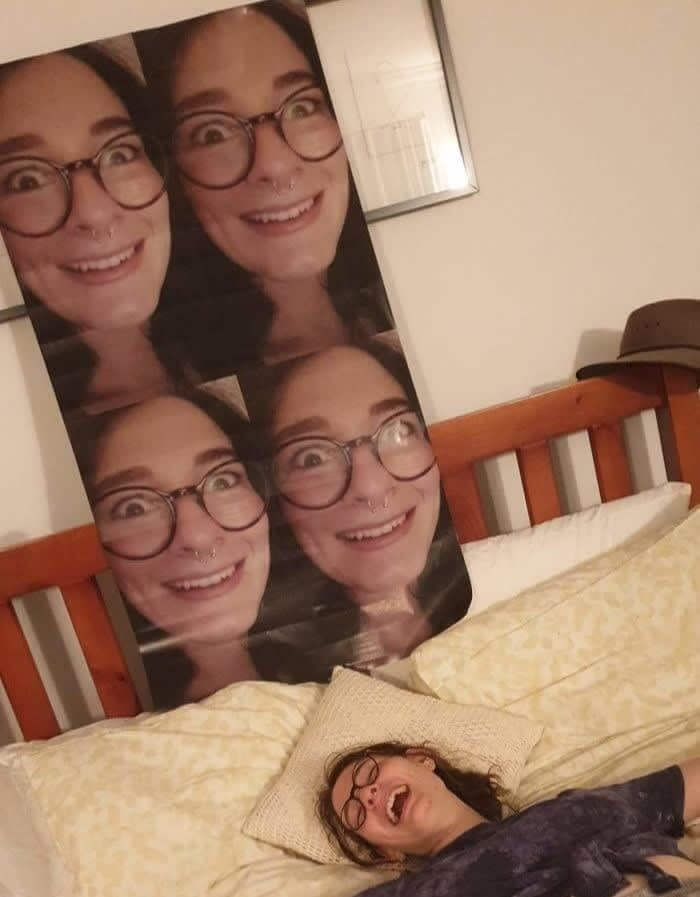 One of a museum's dinosaur bones has gone missing
Always check the size when ordering it online, or your teacup-sized dog will end up with a dinosaur bone. The dog probably still liked it, but they had to chew it for quite a long time. This bone seems like it could have been a Flinstones prop. Only Clifford, we believe, would be capable of carrying this.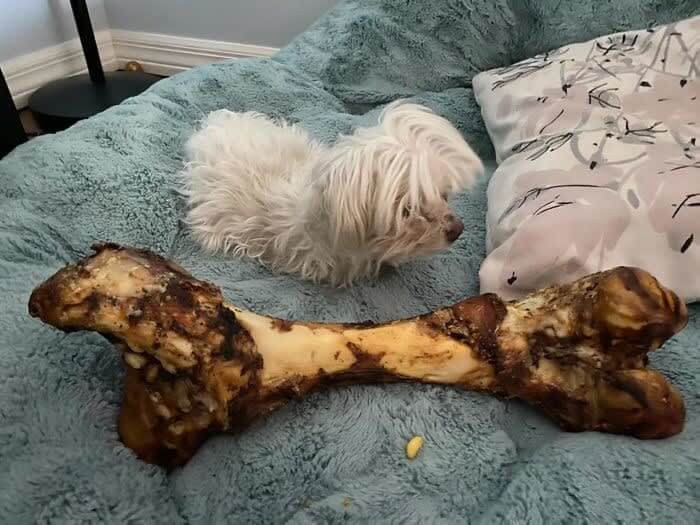 Stay away from ordering "designer" dresses from China
You'd think that people would be more careful after seeing so many women publish images of their clothing fails from shady websites. This woman's outfit does not resemble the one depicted. The product photo was on the designer's website, which the copycat firm located on Pinterest and used for their website.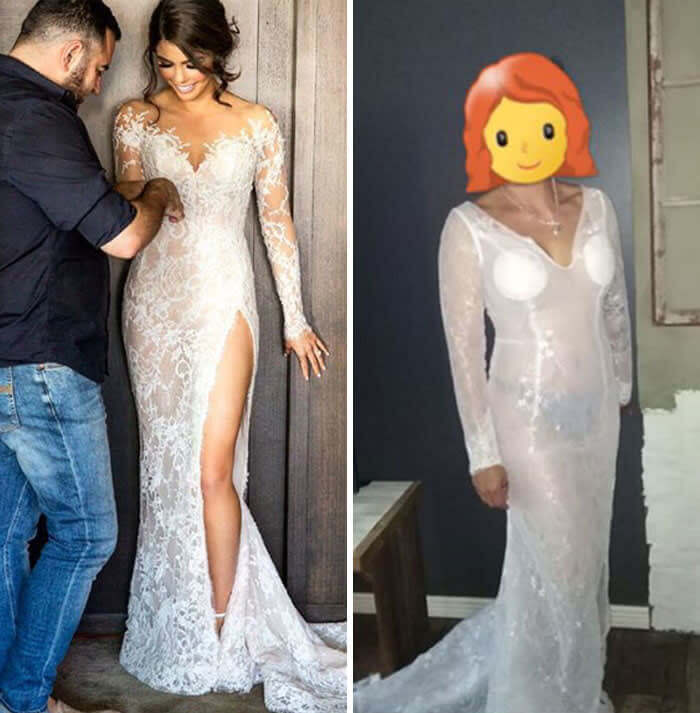 She had requested a Cupcake Ring but instead received a silver toilet seat
This woman wanted to order cupcakes for her sister's engagement celebration, so she went to Walmart's bakery and showed the left photo. Nonetheless, they ended up sending her something that didn't resemble the picture. She found the recipe on Pinterest and attempted to make it herself rather than visiting a bakery. Instead of lovely rose cupcakes, her sister receives something that looks like a cross between a tire and a toilet seat.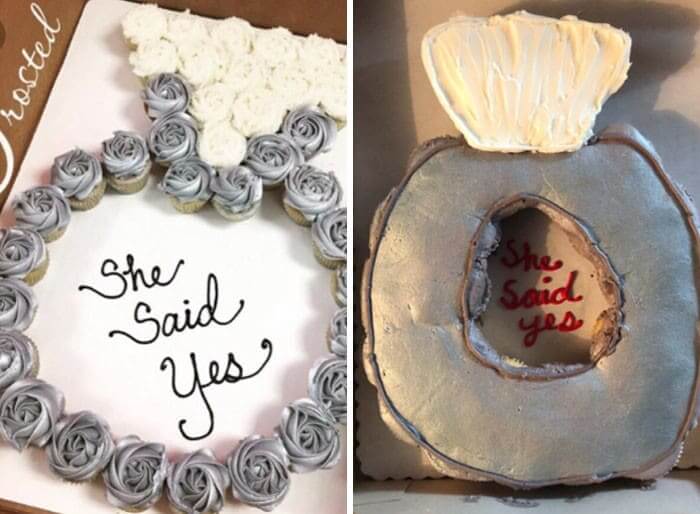 That isn't a family-friendly option
They must have added a new installment to the beloved "Frog and Toad" series. They changed the title to "Frog and Toad F*ck the Police" instead of classics like "Frog and Toad Are Friends" or "Frog and Toad Together." That is highly inappropriate for children, and while the seller may have found it amusing, parents will not. We're not sure why the frogs despise the cops so much, but they don't have to tell us.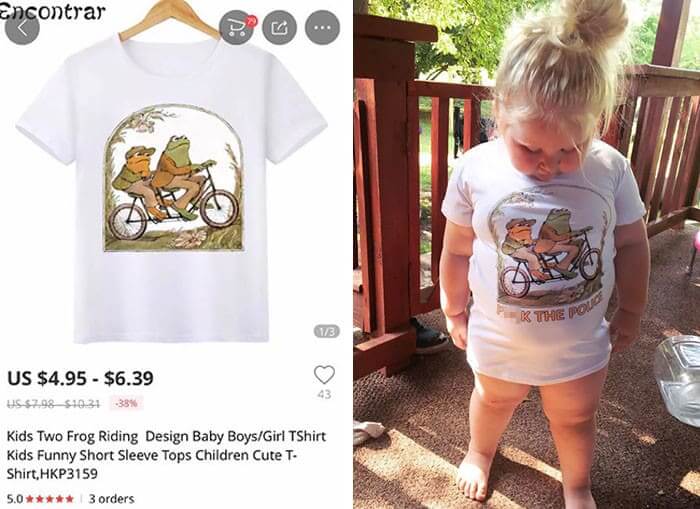 When Your Cat Is Too Big For A Bigger Bed
Despite knowing he wouldn't fit into the Christmas tree bed, this cat gave it his all because there was an opening, and he wanted to investigate. They can now say their pet is stuck in a tree. Because of the missized bed, this cat's self-esteem will suffer greatly; although it is counterproductive, he will seek solace in his food. Only his head got it inside, despite his best efforts.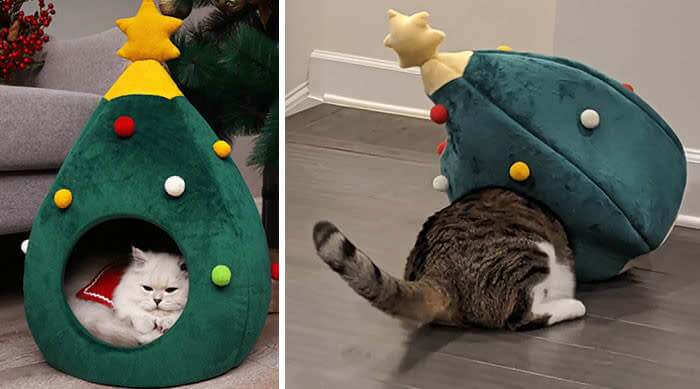 Lemon, pepper, and salt are three standard cooking components in many kitchens. On the other hand, did you realize that these ingredients could come in handy for many uses?? What do we get from putting salt and pepper on a lemon? These three components, either together or separately, are a genuinely miraculous remedy!
The perfect combo
Lemon, black pepper, and sea salt have all been used as medicinal ingredients for a long time. Lemon juice is highly famous for its efficient antibacterial and immune-boosting functions. Salt, like water and oxygen, is virtually essential for the body. Besides, black pepper plays a vital role in traditional medicine because of its antibacterial and fever-reducing properties. Hence, it's not surprising that this combination can make an outstanding contribution to treating a wide range of illnesses!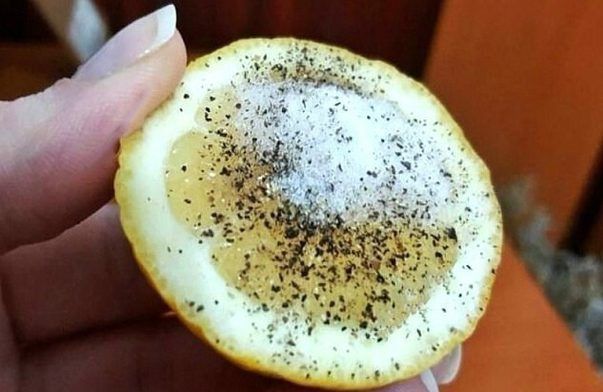 Do you want to get the benefits of mixing lemon, pepper, and salt? Continue reading on the next page.
When we want to lose weight, the fastest way is to eat less and exercise regularly. However, celebrities do not use such methods. Most will eventually pick a rigorous and strange diet, some of which raise many questions. Let's discover together the shocking dietary habits of the following seven stars!
Lady Gaga
Lady Gaga has had a massively successful musical career. As a result, she must maintain a strict diet. One interesting thing about her dietary habits you might not know is that she consumes baby food. Exactly, those baby food jars you can buy anywhere in the grocery store. Her diet goes like this: replacing two baby food breakfasts and then a low-calorie dinner. Many celebrities follow this method, such as Reese Witherspoon and Jennifer Aniston.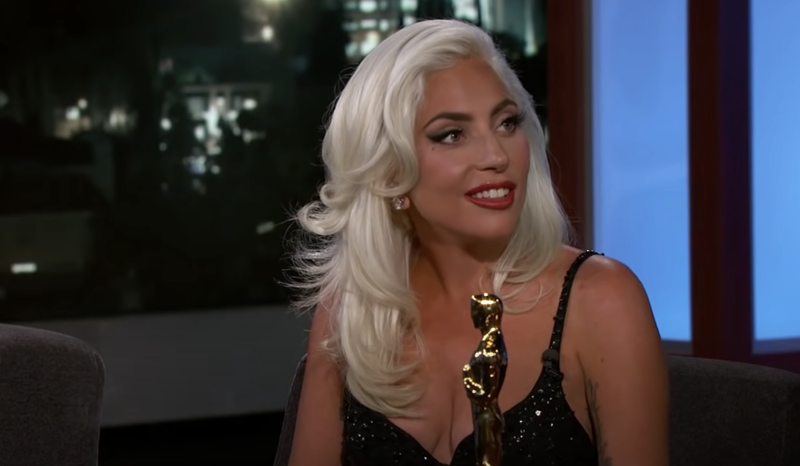 Christina Aguilera
Christina Aguilera is known as a famous singer, songwriter, and actress. However, she has struggled with her weight for many years. So she applied the "Color Diet" to get a perfect body. But what is it? Each day of the week will be a specific color. On the first day, white will be red, green, orange, purple, and yellow, and on Saturday, you will eat a rainbow of colors. It sounds vague, but it might be worth trying, right?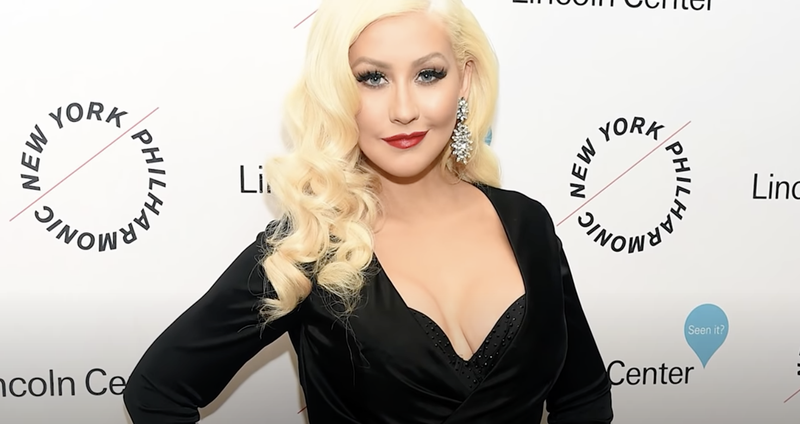 Madonna
Madonna has a rather strange eating method known as the lunisolar diet or the werewolf diet. In detail, this Moon Diet is a trend that involves guiding us according to the lunar calendar. Many people believe that the moon can impact the water in our bodies the same way it works for ocean tides. The famous pop star has chosen one of the many ways in this diet to apply to her. By arranging the new moon day without solid food and following some other suggestions in each lunar cycle, the lunar diet was said to increase one's ability to lose weight quickly. It sounds crazy, but some people have successfully applied this method.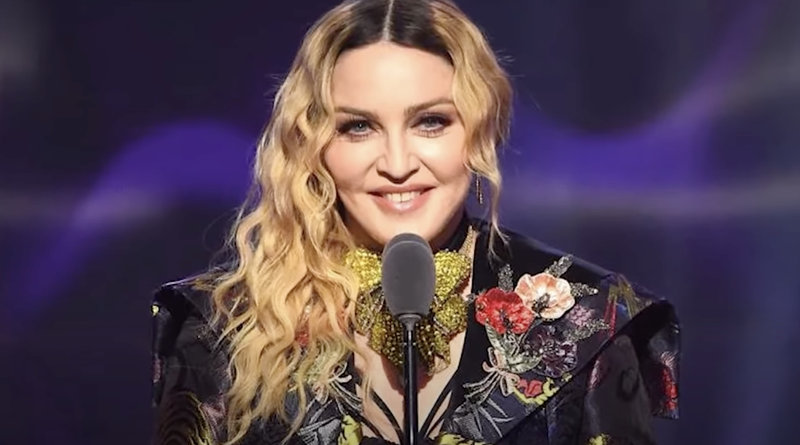 Katy Perry
We all know Katy Perry as one of the most famous singers in the world. In this case, her weight loss method only helps to reduce the hips, waist, and thighs. She followed this regimen for 14 days, and every day she ate raw mushrooms as a meal replacement. As mushrooms are low in calories but high in protein and fiber, you can last longer without having to consume high-calorie foods for the rest of the day. This diet seems a bit unscientific because so far as there hasn't been any evidence proving that eating mushrooms will reduce fat in a specific location.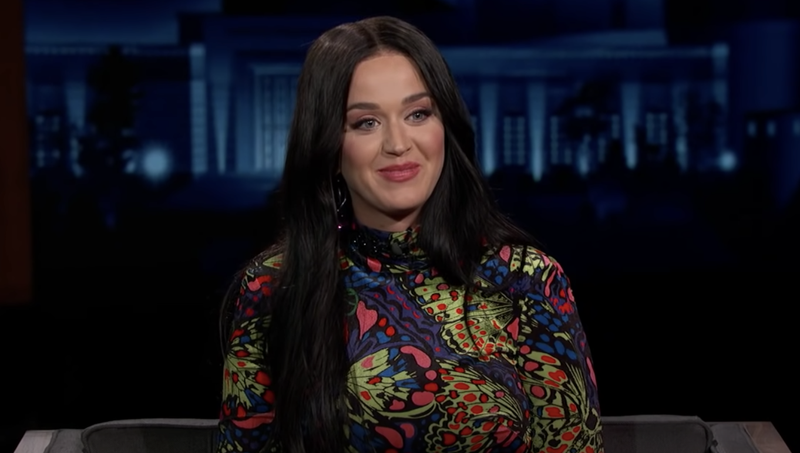 Megan Fox
Megan Fox often drinks a glass of apple cider vinegar every morning to cleanse her body and lose weight. The actress of Transformers does not like to exercise or follow any specific dietary plan, so apple cider vinegar helps her remove sugar and water from the body more easily. Megan's recipe is to dilute 2-3 tablespoons of apple cider vinegar in a large glass of water or juice and drink it before meals. You can also add apple cider vinegar to your daily dishes or take one apple cider vinegar capsule per day.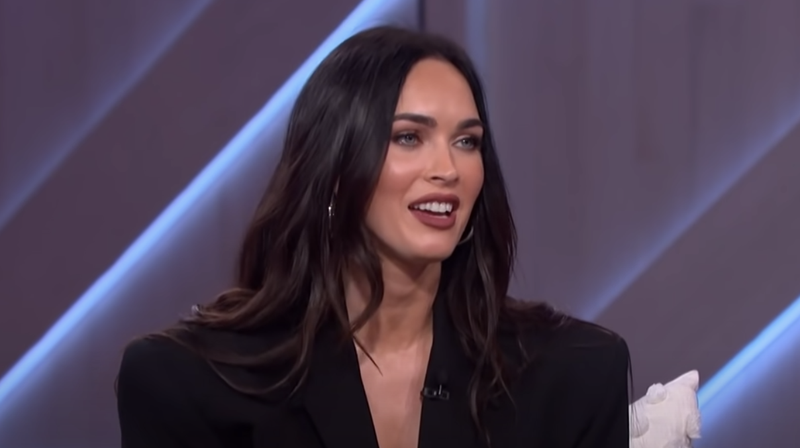 Beyoncé
When Beyoncé had to lose a few pounds for her role in the movie "Dreamgirls", she turned to the "Master Cleanse" method to lose weight quickly and get in shape. This all-liquid diet consists of lemon juice, maple syrup, and cayenne pepper. It's a quick and easy way to lose weight. However, you can easily gain the weight back as it only works for a short time, so it's best not to try this method.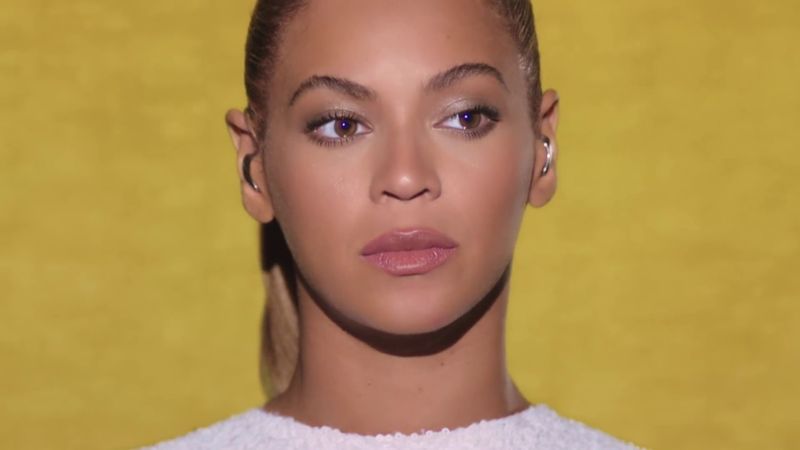 Gwyneth Paltrow
Gwyneth Paltrow shared her diet recipe, which is her daily morning smoothie through her social media. What's more surprising is the total cost of ingredients up to $200! This expensive smoothie includes a mushroom powder known as 'Moon Dust.' According to California-based manufacturer Moon Juice, this powder can heal and enhance your beauty, mind, body, sexual energy, sleep, and spirit.